The Malvern Memorial Parade
The oldest Memorial Commemoration in the United States.
Our 153rd Parade and 205th Memorial Ceremony.
Sunday,September 26, 2021
Malvern, Chester County, Pennsylvania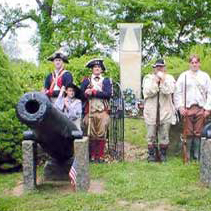 Read about the history of one of the oldest memorial parades and the oldest memorial commemoration in America.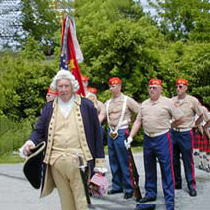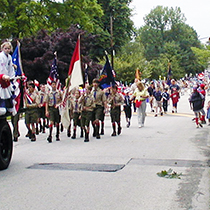 Learn about the Upper Main Line Memorial Association and your parade committee. See a list of our wonderful donors! Get involved!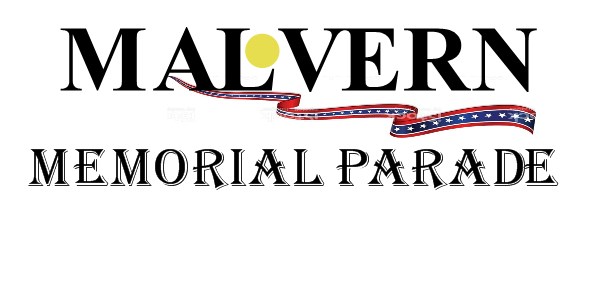 LATEST PARADE STATUS UPDATE - June 7, 2021
Thanks to the Malvern Borough Police, Malvern Historical Commission, the Paoli Battlefield Preservation Fund as well as members of the Parade Committee, we were able to keep the tradition alive with a very small procession from Borough Hall to Monument Park where a short commemoration service was held on Sunday, June 6th.  Now, we prepare for the full parade planned for September 26th.  Thanks for all your understanding and support. 
On Sunday, September 26, 2021 at 1:30 PM, The Upper Main Line Memorial Association will sponsor the 153rd Annual Memorial Parade in the Borough of Malvern, Chester County, Pennsylvania.
Recognized as the oldest Memorial Commemoration in America, the Parade in 2021 will continue the tradition of honoring the men and women who have served our country and especially those who gave their lives in defense of our freedom.
The Parade route will again follow King Street from the Malvern Fire Station west to Warren Avenue, south to Monument Avenue then west to the Memorial Park.
After the Parade on Sunday, the 205th Memorial Ceremony will take a moment to remember and pay tribute to those who have defended our freedom or simply may deserve our gratitude by encouraging those in attendance to place a ribbon on the Malvern Tree of Honor.
All of the events take place in Memorial Park, on Monument Ave. in Malvern. In the unlikely event of rain, there is no rain date for the parade or any of the activities. 
The Paoli-Berwyn-Malvern Chapter of the Lions Club will be selling refreshments in the park and will be collecting used eye glasses and hearing aids. Please drop off your unused glasses at the Lion's Club stand. For more information visit the Lions Club website.
We invite you to explore our website to learn about the Parade!  For more information, email us at: moreinfo@malvernmemorialparade.com.
The 2021 Malvern Memorial Parade begins in
Help support the Malvern Memorial Parade! Donate here with Pay Pal – no Pay Pal account needed!
Help support the Malvern Memorial Parade! Donate here with Pay Pal – no Pay Pal account needed!