It is really the 150th Parade?  We think so! 
Tradition says Malvern moved the commemoration of the Paoli Massacre it had been holding since 1817 to the end of May in 1869, the year following the establishment of Decoration Day.  The McCall Post No. 31 of the GAR in West Chester was the original sponsor. The Parade continued under the auspices of the Post until 193
0, when the event was taken over by the Dalton –Wenzel Post No. 646 American Legion in Paoli.  Mrs. Catherine J. Annear, "Mrs. Malvern", was the driving force for the Parade for many years until her death in 1981.
Since then the co-chairpersons of the Upper Main Line Memorial Association, the sponsor of the Parade; have been Frank & Carole Ortner.
Source A Century in Malvern  by Nancy B. Schmitt (1989)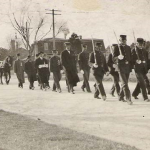 .
How are we "Home of the Oldest Memorial Commemoration" in the US?
While it wasn't always held in in the spring, the first memorial ceremony commemorating the Paoli Massacre was held in  1817. More than 400 volunteer troops in eight militia units from three counties, and two bands "in a slow solemn march" participated. "The number, brilliancy and respectability of the assemblage at Paoli on the morning of that day, is spoken of as never before equaled in Chester County."
It was the start of a tradition. In succeeding years Sept 20th "was duly observed with military parade, drill exhibition, band music, patriotic addresses and musket, rifle and cannon salutes and was known throughout the area as Paoli Days."  It wasn't until the end of the 19th century that our memorial incorporated a broader commemoration and was moved to the Sunday after what was then called "Decoration Day".  Today, the tradition is still going strong, for the 202nd time!
Source A Century in Malvern  by Nancy B. Schmitt (1989)