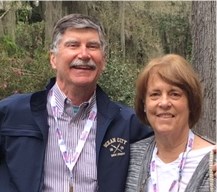 If you noticed something different about this year's Parade, you were right. For the first time since 1982 Frank and Carole Ortner are not actively involved.
After the 150th last year, the Ortners decided to "retire" from active involvement and focus their attention on other projects and activities. They are not able to attend this year, or we would have had a more formal recognition. Hopefully, that will come next year.
However, we did not want their substantial contribution to the Parade to go unrecognized this year. The committee thanks Frank and Carole for their leadership, untiring dedication and support. We wish them well. We also are pleased to announce that long-time Malvern resident, Larry Buchholz, has been named the new UMLMA Chairman. Larry has large shoes to fill, but we are confident he is up to the task!