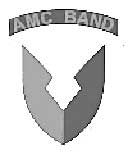 The US Army Materiel Command Band was constituted on January 15, 1944 as the 389th Army band and was activated the following week at Fort Monmouth, NJ. The AMC Band has direct ties to the US Army Signal Corps Band and the 13th Cavalry Regimental Band, though it does not carry their lineage and honors.
The 13th Cavalry Band was organized at Fort Meade, SD in 1901.  In 1916 while on international border patrol, the 13th Cavalry Band saw action against Francisco "Poncho" Villa's guerrillas in New Mexico.  The Band served at various posts and camps around the world before arriving at Fort Monmouth in 1930.
In late August 1930 the 13th Cavalry Regimental Band was formally inactivated and retired.  In the same month the US Army Signal Corp Band was activated and received personnel and equipment from the 13th Cavalry Band.  In 1944 Signal Corp Band was inactivated and the 389th Army Band was formed and activated.  It likewise inherited personal and equipment form the Signal Corps Band.
During World War II, the 389th Army Band was the motivating factor in a campaign that sold more than one million dollars in war bonds for the war effort, earning the band the Meritorious Unit Commendation in 1994-5.
In it 15th year of existence the AMC Band was transferred to Aberdeen Proving Ground in Maryland.
In 2005 the band earned the Army Superior Award for exceptional service in support of the Global War on Terrorism.
In 2006 Chief, Force Structure and Unit History Branch conferred upon the 389th Army Band the distinctive designation of "US Army Materiel Command Band".  This designation directly associates Army Materiel Command military and civilian personnel stationed world-wide.
The band with it eight musical groups performs over 250 times each year throughout the northeastern US and at numerous local military and civilian community functions as well as throughout the country and overseas in support of AMC assets.  Over the past three years the AMC Band has deployed in support of Operation Iraqi Freedom and Operation Enduring Freedom, performing in Iraq, Kuwait, Saudi Arabia, Qatar and Afghanistan.
The Band is under the leadership of Chief Warrant Officer Frederick Ellwein and Sergeant Major Wendy N. Thomson.