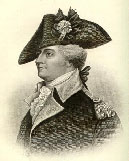 Born in Paoli on January 1st, 1745, Anthony Wayne was a dashing, brave soldier in the young Continental army.  Known for his bravery and quick temper, "Mad Anthony" first served in Canada in 1776.  Later, Wayne's troops helped defend Philadelphia at the Battle of Brandywine.  For three hours, Wayne fought to repulse Hessian advances over the Brandywine River at Chadd's Ford.  As the British converged on Philadelphia, Wayne's 1,500 troops regrouped and camped right here in Malvern.  Assuming that his presence was undetected, Wayne attempted to harass the enemy.  What became known as the "Paoli Massacre" ensued.
On Sept 20-21, 1777, in a skillful night attack led by Major General Sir Charles Grey, the British bayoneted patriot soldiers.  With 300 casualties, Wayne was inevitably subject to criticism.  An official inquiry held that Wayne was not guilty of misconduct but that he had erred in tactics.  Enraged, the tempestuous Wayne demanded a full court-martial.  On Nov. 1, a board of 13 ranking officers declared Wayne had acted with honor.  Yet, Paoli remained a stigma on his record for the rest of his career.
That winter, Wayne encamped with General Washington at Valley Forge. At the end of 1778, he was given command of a corps of light infantry.  His most successful action was a surprise attack on the British at Stony Point on the Hudson River in July 1779.  He used similar tactics to those used by the British at Paoli, and the battle cry, "Remember Paoli" rallied his troops.  Wayne continued to see action throughout the war.  In 1781, he and his troops participated in the British defeat at Yorktown.
Wayne retired to civilian life in 1783.  He served in both the Pennsylvania and Georgia Legislatures, and was a member of the House of Representatives in the 2nd Congress.
After the Revolution, President Washington asked Wayne to take charge of the Northwestern Indian War.  He took command of "The Legion of the United States" and in 1794, won a decisive victory at the Battle of Fallen Timbers on the Maumee River near what is now Toledo, Ohio.  The following year he negotiated the Treaty of Greenville, opening the Northwest Territory to American settlers.
Wayne died in Presque Isle, PA, on Dec. 15, 1796 from gout complications.  He was disinterred in 1809 and reburied at Old St. David's Episcopal Church in Radnor.  His ancestral home, "Waynesborough", still stands in Easttown Township.