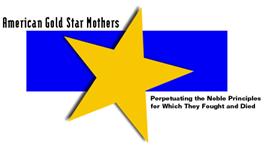 During the early days of World War I, a Service Flag was displayed from homes, places of business, churches, schools, etc., to indicate the number of members of the family or organizations who were serving in the Armed Forces. The Service Flags had a deep Blue Star to represent each person, man or woman in the Military Service of the United States. As the war progressed and men were killed in combat, others wounded and died of their wounds or disease, a Gold Star was sewn over the Blue Star to cover it. The idea of the Gold Star was to honor the person for his supreme sacrifice for his country. Thus the Gold Star and the term Gold Star Mother, as applied to mothers whose sons or daughters died in the War, began.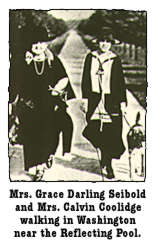 On June 4, 1928, seventy-two years ago today, a group of twenty-five mothers led by Mrs. Grace Darling Seibold, met in Washington, D.C. to create a national organization for the purpose of perpetuating the ideals of Americanism for which their children had so gallantly fought and died, to be known as American Gold Star Mothers, Inc., a nondenominational, non-profitable and nonpolitical organization.
Today the membership of American Gold Star Mothers, Inc. is composed of American Mothers who have lost a son or daughter during World War I, World War II, the Korean War, the Vietnam War, Beirut, Grenada, Panama, the Persian Gulf, Somalia, Bosnia, Saudi Arabia, all Strategic Areas, or while in service to our country. The organization has a special gold-fringed white flag with a gold star in the middle. Small pins worn by members have a gold star on a purple background, bordered by a gold laurel wreath.
The American Gold Star Mothers, Inc.
2128 Leroy Place NW – Washington, DC 20008 – 202-265-0991
E-mail agsmoms@aol.com